Intra-nasal Influenza vaccine candidate
-
stopping the infection at its point of entry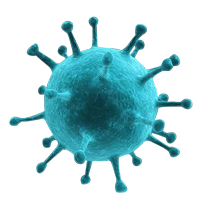 Influenza, commonly referred as flu, is a contagious respiratory illness caused by influenza viruses. It rapidly spreads around the world in seasonal epidemics and imposes a considerable economic burden in the form of hospital and other health care costs and lost productivity. In annual influenza epidemics, 5-15% of the population is affected with upper respiratory tract infections. Worldwide, these annual epidemics result in about three to five million cases of severe illness, and about 250 000 to 500 000 deaths (source WHO).
Mymetics' influenza vaccine approach
Our influenza vaccine is based on virosomes that do not contain a "live virus". The vaccine, being administered in the nose, can therefore fight the virus at the mucosal level by developing not only mucosal antibodies but also blood antibodies. Consequently, the infection is stopped at the point of entry and prevents even the earliest onset of disease.
Target population and market size
The seasonal flu market has reached close to USD 3 billion in 2012 and is expected to grow at a CAGR of 3.2%. The intra-nasal application is expected to take market share from the injected vaccines due to ease of use and efficacy.
Status and next steps
Under an out-licensing contract with Abbott Biologicals, the Mymetics intra nasal influenza vaccine has successfully finished a Phase I trial on 110 people. The Phase I showed good safety and tolerance profiles and met and even exceeded all CHMP criteria (European EMA criteria for injected flu vaccines).
Partnering Opportunity:
Due to changes in strategy and reprioritization at Abbott, Mymetics has regained the ownership of the intra-nasal influenza vaccine and is ready to take this further in the clinic with strategic partners.