Immunotherapies for oncology and allergies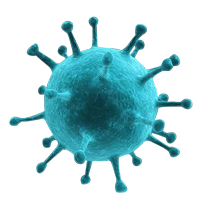 Since 2018 Mymetics has broadened the application of the virosome vaccine, besides infectious diseases into cancer and allergy immunotherapies. For this Mymetics' partners with pharma and biotech companies in these fields through well-defined collaborative R&D and preclinical projects.
Mymetics' immunotherapy for oncology
Mymetics' virosomes, enveloped virus like particles, are able to trigger both specific CD4+ and CD8+  T cells, as virosomes are processed by dendritic cells and presented to both MHC Class I and MHC Class II pathways.
As virosomes have a proven safety track record and Mymetics is able to produce these at GMP, it is a very attractive choice to increase specific T-cells for cancer treatment through incorporating specific cancer antigens and combining these with other treatments like check point blockade or check point inhibitors.
Mymetics is currently engaged with several small biotech companies in the oncology field to evaluate the improvements that can be generated in pre-clinical studies.
Mymetics is actively seeking additional partnerships to enhance existing cancer immunotherapies by use of the virosome VLP platform.
Mymtics' immunotherapy for Allergy
In April 2018 Mymetics announced that it signed an agreement for a feasibility study with Anergis SA to evaluate the use of virosomes for the for the ultra-fast allergy immunotherapy against birch pollen.
Anergis SA is a Swiss biopharmaceutical company dedicated to the discovery and development of novel, ultra-fast, proprietary allergy immunotherapy products for the most prevalent allergies. Anergis core technology is based on Contiguous Overlapping Peptides (COP) which together contain the full amino acid sequence of one or more major allergens. Anergis completed three clinical Phase II trials with its product candidate against birch pollen allergies, AllerT, containing Bet v1 COPs and aluminium hydroxide as an adjuvant, but failed to meet the overall end point in the last study that was announced in September 2017.  Anergis has been exploring vaccine delivery platforms to improve the birch pollen COP and therefore signed the agreement with Mymetics to explore the virosome platform.
In December 2018 Anergis and Mymetics announced that the pre-clinical proof-of-concept study for birch pollen allergies, met all the success criteria.
The mice proof-of-concept immunogenicity study evaluated the effects of the Bet v 1 COPs (Anergis' proprietary birch pollen allergy peptides) using the five subcutaneous injection schedule used in former AllerT clinical trials. The development of AllerT (Bet v 1 COPs plus aluminum hydroxide) was discontinued by Anergis in 2017 following completion of a Phase 2 clinical trial showing evidence of sensitization to the peptides and a 7% reduction in seasonal allergy symptoms vs placebo (p=0.0047).
In the mice study, AllerT was compared to Bet v 1 COPs linked to Mymetics' virosomes (the "Bet v 1 COP-virosomes").  Anergis reported that the administration of AllerT led to the development of Bet v 1 specific IgEs (p<0.001) associated with a more pronounced TH2 than TH1 response. In contrast, in the mice receiving the Bet v 1 COP-virosomes, no development of Bet v 1 specific IgEs were observed (p<0.001 vs AllerT). With the same dose of Bet v 1 COPs, there was a strong boost of immunogenicity with a TH1 antibody response, which was a hundred times greater than with aluminum hydroxide (p<0.001). The Bet v 1 COP-virosomes were well tolerated.
Anergis SA has now a time limited exclusive option to sign a License and Collaboration Agreement with Mymetics to license the virosome technology from Mymetics.