INFLUENZA and RSV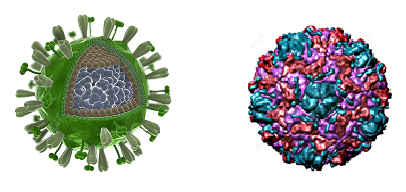 Influenza and RSV are respiratory pathogens which infect patients of all ages. The infection can be especially severe in infants and older adults with chronic pulmonary or cardiovascular disease.
 
Influenza
Also commonly referred as flu, is a contagious respiratory illness caused by influenza viruses. It rapidly spreads around the world in seasonal epidemics and imposes a considerable economic burden in the form of hospital and other health care costs and lost productivity. In annual influenza epidemics, 5-15% of the population is affected with upper respiratory tract infections. Worldwide, these annual epidemics result in about three to five million cases of severe illness, and about 250 000 to 500 000 deaths (source WHO).
Mymetics' Influenza vaccine approach
Our Influenza vaccine is based on virosomes that do not contain a "live virus". The vaccine, being administered in the nose, can therefore fight the virus at the mucosal level by developing not only mucosal antibodies but also blood antibodies. Consequently, the infection is stopped at the point of entry and prevents even the earliest onset of disease.
Under an out-licensing contract with Abbott Biologicals, the Mymetics intra nasal influenza vaccine has successfully finished a Phase I trial on 110 people. The Phase I showed good safety and tolerance profiles and met and even exceeded all CHMP criteria (European EMA criteria for injected flu vaccines).  Due to changes in strategy and reprioritization at Abbott, Mymetics has regained the ownership of the intra-nasal influenza vaccine and is ready to take this further in the clinic with strategic partners.
Partnering
During 2017 and 2018 Mymetics partnered with Sanofi to test different influenza virosome formulations with different HA And NA concentrations in pre-clinical mice models. Although the first study did not trigger the results that were expected, a second study corrected this and showed good and improved HAI titers.  Due to changes in strategy at Sanofi this project is currently not advancing with Sanofi.
RSV
RSV infects 64 million people and is responsible for 160,000 deaths worldwide. Currently, there is no vaccine available for this highly contagious virus. See more
RSV target population and market size
Mymetics RSV vaccine candidate is targeting the elderly population, representing a target population in the Western world of about 150 million. The potential RSV vaccine sales is estimated between USD 1. 2 and USD 1.5 billion USD a year and is thereby one of the few remaining vaccines with block-buster potential. See more
Mymetics' RSV vaccine approach
The virosome is produced from the RSV virus, by dissolving the RSV membrane, taking out the genetic material and reconstituting the lipid membrane including the natural RSV proteins with an adjuvant. See more
Encouraging results
In pre-clinical studies Mymetics' vaccine has shown strong safety and immunogenicity and the vaccine did not induce enhanced disease, while mice and cotton rats were completely protected against a live virus challenge. See more
Partnering
During 2014 and July 2016 Mymetics engaged in a license and collaboration agreement to further develop Mymetics' RSV vaccine candidate with RSV Corporation (RSVC), a development company dedicated to the clinical development of the Mymetics RSV vaccine and funded by Astellas Pharma. On January 29th, 2016 Mymetics announced the discontinuation of the collaboration with RSVC, which officially terminated on July 25th, 2016.
Mymetics has received $5 million as an upfront cash payment and was compensated for the Research and Development of the RSV vaccine during the years 2014 and 2015, thereby significantly strengthening its know-how and expertise in the RSV vaccine manufacturing, analytics and composition.
This program is currently on hold. There can be no certainty on the continuity.